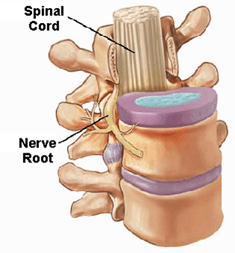 Bulging Discal (or Disc Protrusion)
The bulging or Disc Protrusion precedes the Herniated Disc, in other words, if left untreated the protrusion may develop into a Herniated Disc. The difference between the two is that in the disc protrusion does not break the fibrous ring. The most common symptoms are back pain, numbness, tingling and muscle weakness in arms or legs. The most common causes for the emergence of a protrusion are heavy physical work, repetitive work, static work posture and weight lifting.
Treatment
For treatment, medications like analgesics, muscle relaxants and anti-inflammatory can be used and in addition to that manual physiotherapy techniques, weight training, pilates and acupuncture.