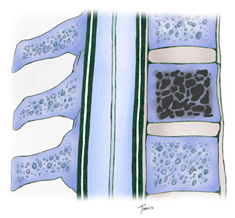 Vertebral Hemangioma
The hemangioma is a benign vascular lesion that may be capillary or cavernous. The Vertebral Hemangioma, when symptomatic, can cause upper back pain and in some cases may be associated with spinal cord or nerve root compression. In most cases, vertebral hemangiomas are asymptomatic and discovered incidentally.

Treatment
Rest, medication and strengthening exercises such as flexion, extension, and abdominal exercises in water are the most recommended for treatment of vertebral hemangioma.