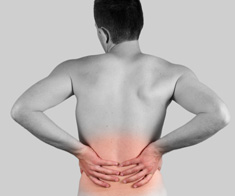 Lumbago and Lumbosciatalgia
Commonly known as back pain, Lumbago accounts for the second major cause of pain in the world, behind only to cephalea (headache). They are pain of varying intensity in the lumbar region that can be followed for buttocks and legs. When the pain radiates to the legs it is known such as lumbosciatalgia. For being very common, there are several causes for back pain: repetitive stress, smoking, overweight, inadequate physical conditioning, minor trauma, postural error, disc degeneration, among other factors. In some cases, Lumbago might be related to some systemic diseases.

Treatment
The most common treatment against Lumbago consists of limited resting, medicines for pain and physical exercises such as stretching.